A Guide to Cycling in Dubai
Do you love cycling? Do you want to explore Dubai in a fun and eco-friendly way? If you answered yes to both questions, then this guide is for you!
Dubai is not just a city of skyscrapers, malls, and luxury hotels. It's also a city of diverse landscapes, wildlife, and culture. And what better way to discover it than on two wheels?
Whether you're looking for a leisurely ride in the park, a challenging desert adventure, or a thrilling race on the track, Dubai has something for every cyclist. Here are some of the best places for cycling in Dubai that you should check out.
What is the cycling culture like in Dubai?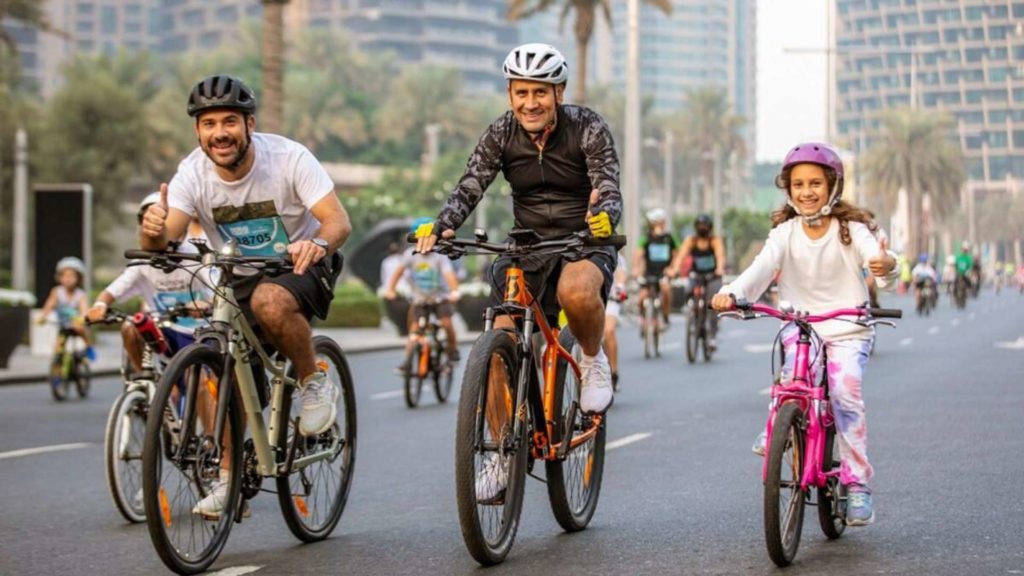 The cycling culture in Dubai is rapidly evolving as the government focuses on promoting cycling as a sustainable mode of transport, resulting in a surge in cycling enthusiasts.
The UAE government has launched several initiatives to promote sports and recreation, including cycling.
The National Sports Strategy – 2031 aims to enhance community sports, competitive sports, and the overall sports system in the UAE. Its objective is to promote sustainable growth and prosperity in the country's sports sector.
By 2031, the National Sports Strategy will implement 17 initiatives to achieve several goals, which include increasing the proportion of people practicing diverse sports to 71% of the population.
One of the initiatives promoting cycling culture in Dubai is THE LOOP, a development project announced as part of Dubai's 2040 Urban Master Plan. This plan aims to enhance the quality of life of citizens, residents, and tourists in the city.
In addition, there are local sports councils and federations such as the UAE Cycling Federation that aim to create an environment that contributes to enhancing the importance of sports practice and sports programs that meet the requirements of society. 
They support youth to cultivate their sporting and cultural talents in a way that leads them to compete at national, regional, and international levels.
However, here's the list of cycling tracks to try in Dubai:
Al Qudra Cycling Track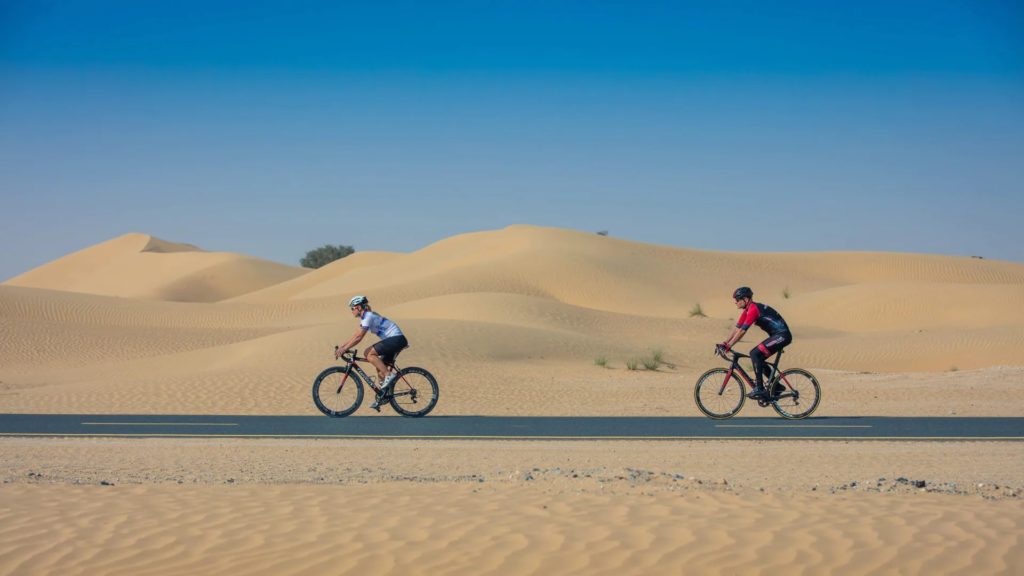 Al Qudra Cycling Track is one of the most popular cycling areas in Dubai, with 86km of track that takes you deep into the sandy dunes of the desert. You can enjoy stunning views of Al Qudra Lake and spot indigenous wildlife like the Arabian Oryx.
The track has two paths, one for shorter rides (18km) and one for longer (50km). You can also rent a bike at the Trek Bicycle Store near the Last Exit Al Qudra.
Nad Al Sheba Cycle Park
Nad Al Sheba Cycle Park is another beautiful track for cyclists in Dubai, close to the Meydan Racecourse. Once a camel track, this area has been converted into a cycle track haven with loops ranging from 4km to 8km.
You can admire the glistening Burj Khalifa in Downtown Dubai as you pedal along.
The course is lit throughout and has all the necessary facilities, including restrooms, changing rooms, showers, and lockers.
There's also a separate children's course with street signs, speed bumps, and roundabouts to teach young riders about bicycle and road safety.
Hatta Mountain Bike Trail Center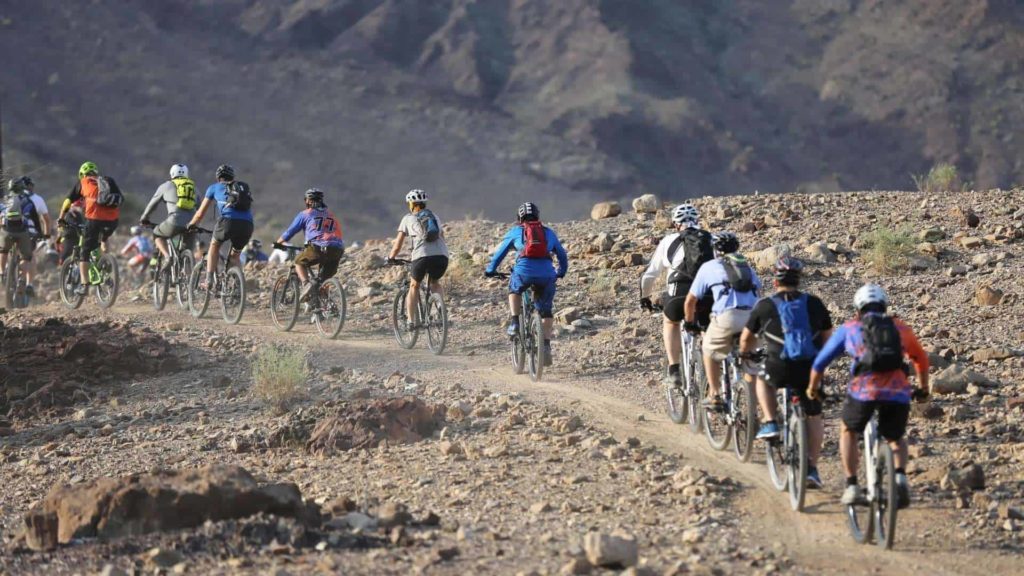 If you're looking for a more adventurous ride, head to Hatta, a mountain enclave of Dubai, where rocky outcrops and heightened challenges await you.
There's a 52km mountain biking trail to tackle here, with four different levels to consider based on your abilities.
You can also stop by the Hatta MTB center for bike hires and other essentials. The scenic surroundings of Hatta will make you forget you're in the desert.
Dubai Marina Cycle Track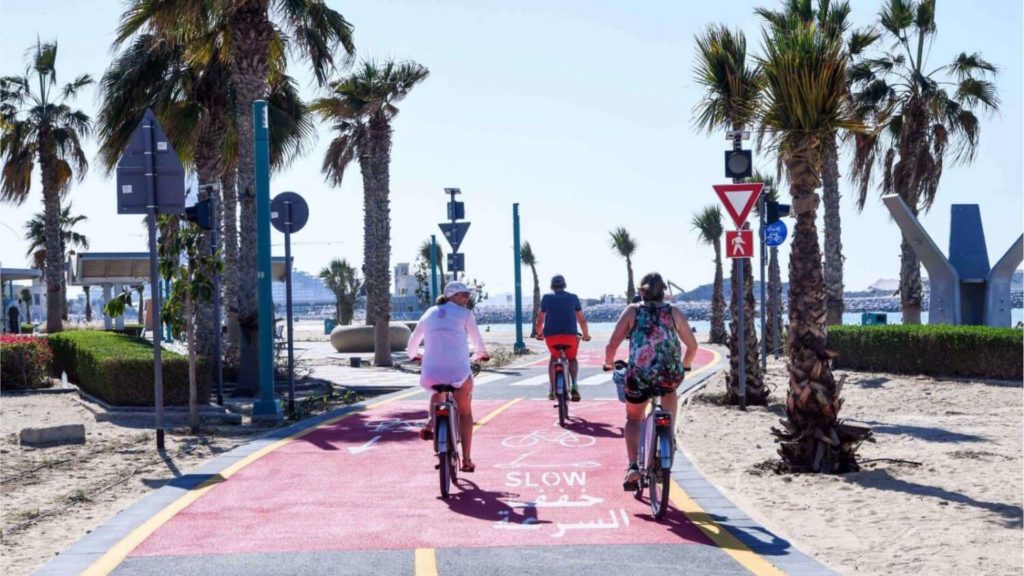 The Dubai Marina cycle track is a 9km loop that connects to the Jumeirah Beach Residence (JBR) track, giving you access to the beach, cafes, restaurants, and shops.
Not only will you be able to appreciate the breathtaking sights of towering skyscrapers, luxurious yachts, and the magnificent Dubai Eye Ferris wheel, but the cycling route caters to cyclists of all skill levels,
There are also numerous bike rental facilities conveniently located nearby.
Meydan Cycle Track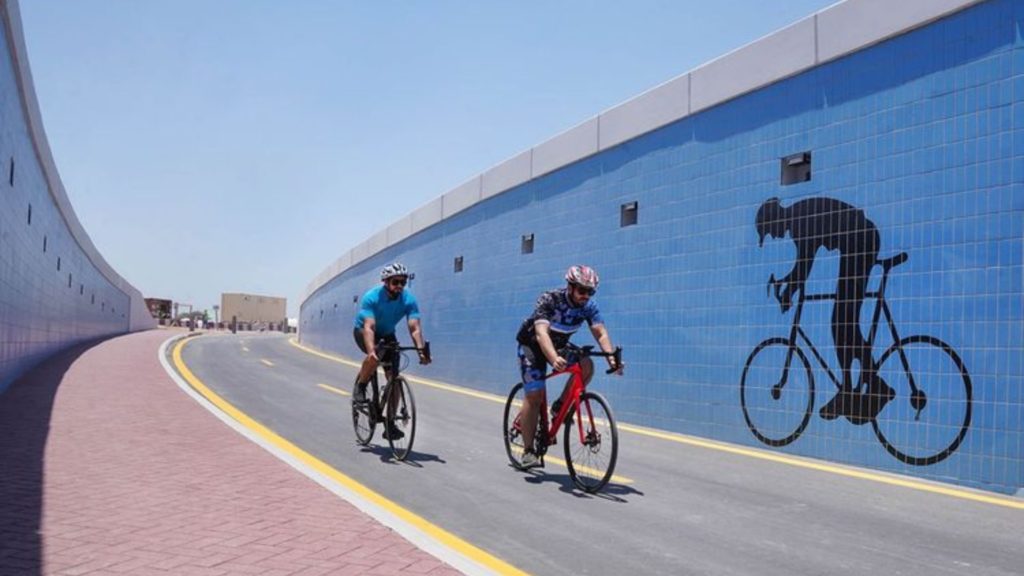 Meydan is a Dubai district famous for its racecourse, where the world's richest horse race, the Dubai World Cup, is held every year. But it's not only horses that can enjoy the thrill of speed here.
Meydan also has a cycle track open to the public and offers a great view of the Downtown Dubai skyline and the Burj Khalifa. The cycle track at Meydan is a converted camel track with three loops – 4km, 6km, and 8km – to suit different levels.
The track is well-maintained, with lockers, air-conditioned changing rooms, and shower facilities. It's also lit for night riding, making it a perfect choice for any time of the day.
If you're looking for a change of scenery, you can also try the nearby DxBike, an eco-friendly 8.4km track that runs next to Mohammed Bin Rashid Al Maktoum City.
Mushrif National Park Cycle Track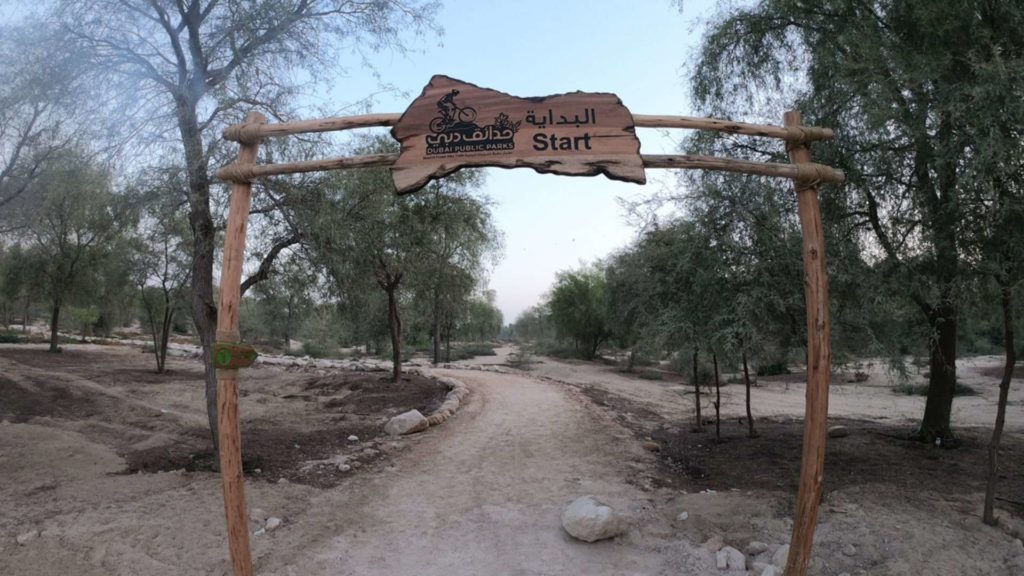 Mushrif National Park is one of Dubai's oldest and largest parks on Khawaneej Road in Mirdif. It covers an area of 1300 acres and features a forest of thousands of native trees, a camel farm, a zoo, a swimming pool, and a museum.
It also has a 5km cycle track that crosses through the dunes and offers a unique cycling experience in the sand. The trail is open until 11 pm and has an entrance fee of AED 5.
Sheikh Hamdan Bin Mohammad Bin Rashid Al Maktoum, Crown Prince of Dubai and Chairman of The Executive Council of Dubai has approved the project to create a 50km sand bike track in the park.
This track, the first of its kind in Dubai, will feature four different difficulty levels and will be able to accommodate up to 3,000 daily riders.
Dubai Autodrome Cycling Track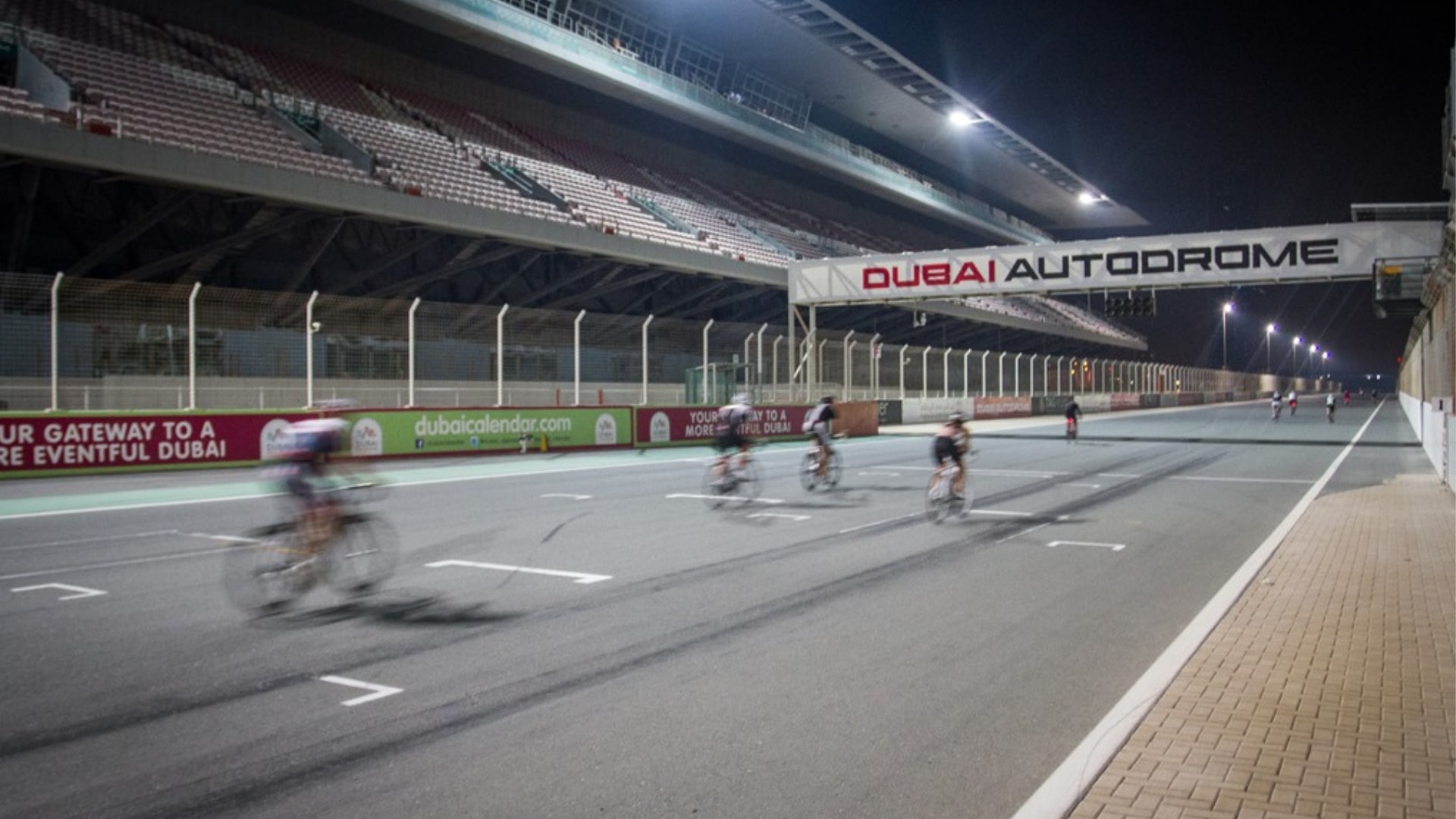 Dubai Autodrome is a world-class racing circuit that hosts car and motorbike events throughout the year. But it's not only for professionals.
Every Wednesday evening, the Dubai Autodrome opens up its 2.5km track to all cycling enthusiasts, who can enjoy a thrilling ride under the floodlights. The way is suitable for all ages and abilities, and has a smooth surface and challenging corners.
You can also join the Train Dubai cycling club for group rides and coaching sessions. The track is free to use, but you must bring your bike and helmet. You can also rent a bike from Wolfi's Bike Shop, which has a branch at the venue.
Dubai Water Canal Cycle Track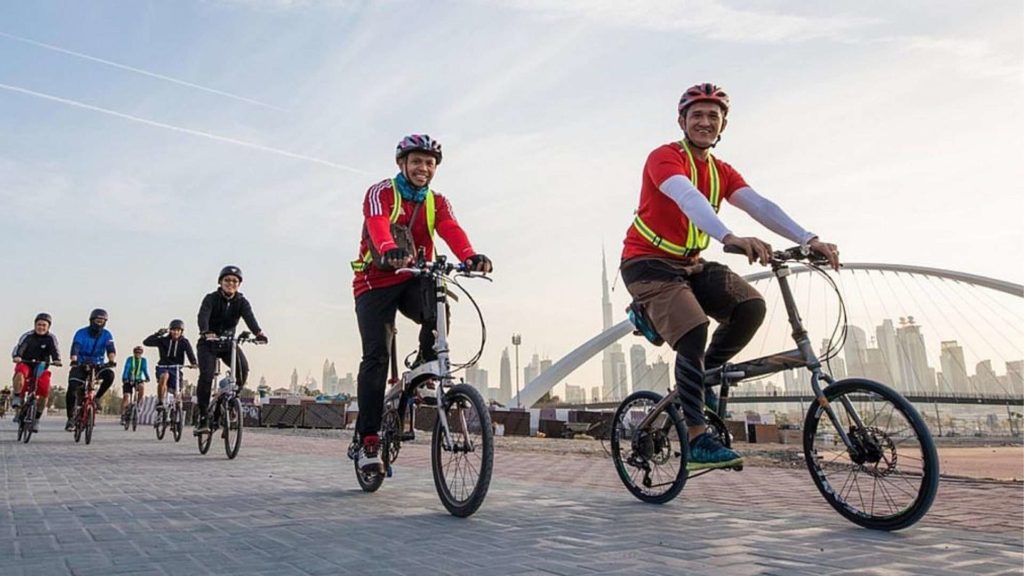 Dubai Water Canal is a 3.2 km-long waterway that connects the historic Dubai Creek with the Arabian Gulf. It's a stunning attraction with a 12 km-long cycling track along its banks, offering spectacular views of the city skyline, waterfalls, and bridges.
The cycling track starts from Jumeirah Street near Dubai Water Canal and connects with the existing trail at King Salman bin Abdul Aziz Al Saud Street near Dubai Internet City.
It also links with the new 16 km-long cycling track alongside Jumeirah Beach. The track is suitable for all levels of cyclists and has several facilities such as rest areas, benches, kiosks, and bike rental stations.
You can also enjoy shared bike services at various locations along the track. The track is open 24 hours, seven days a week, with a speed limit of 20 km per hour.
Al Barsha Pond Park Cycle Track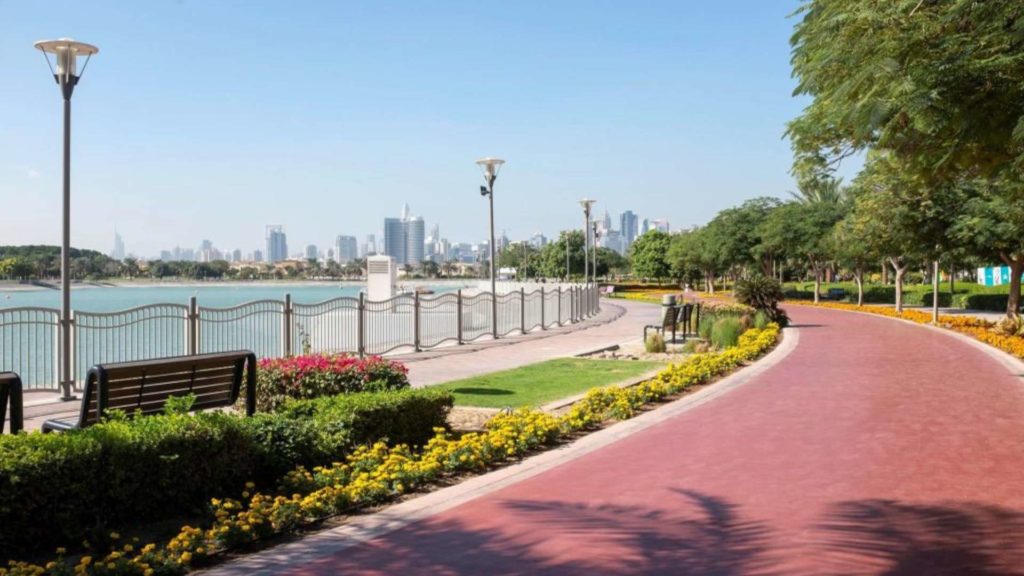 Al Barsha Pond Park is a beautiful green space in the heart of Dubai, where you can enjoy a relaxing ride around a large artificial pond.
The park has a 1.5 km-long cycle track that runs parallel to the running track, with a spongy surface and markings every 100 meters. You can bring your bike or rent one from Byky Sports Cycle, which has a variety of bikes for all ages and preferences.
For added fun and excitement, why try the e-scooter or pedal go-kart? The cycle track caters to beginners and experts, with a speed limit of 20km/h. As you pedal along, take in the serene views of the pond, creating a truly enchanting experience.
Moreover, the park offers a variety of other facilities, including an outdoor gym, a football pitch, a basketball court, and a volleyball court, ensuring there's something for you to enjoy.
The Greens Cycle Track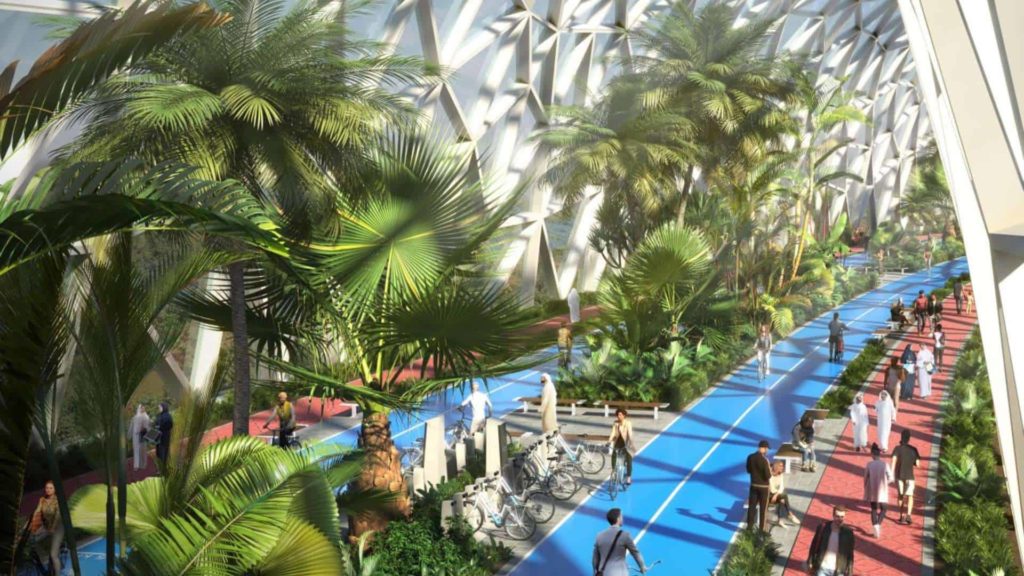 The Greens Cycle Track is a peaceful haven nestled in Dubai, perfect for those seeking a green escape.
The community boasts a stunning 93 km-long cycle track that weaves around its perimeter, granting you access to picturesque parks, serene lakes, and beautiful gardens.
It's an eco-conscious gem, encouraging people to explore Dubai sans fossil fuels. This car-free "green corridor" embraces a plethora of trees and plants, creating an inviting path for residents to stroll or cycle, promoting sustainability and healthier living.
Here, sustainability is key, with a zero-emissions transport system and even innovative vertical farms in the mix. The Loop is destined to be a groundbreaking model for modern, sustainable living in Dubai.
Do's and Don'ts When Cycling in Dubai
Obey Traffic Rules: When cycling on the roads, it's crucial to follow traffic rules, including using hand signals and respecting traffic signals.
Stay Hydrated: Dubai's climate can be hot, especially during summer. Carry enough water to stay hydrated throughout your ride.
Wear Proper Gear: Invest in a good-quality helmet and appropriate cycling attire to ensure safety.
Join Cycling Groups: Joining local cycling groups is an excellent way to meet like-minded individuals and explore new routes.
Explore the Desert Safely: If you plan to venture into the desert for a cycling adventure, inform someone about your itinerary and carry essential supplies.
Don't Cycle on Highways: Cycling in Dubai is prohibited on highways or expressways. Stick to designated cycling tracks or quieter roads.
Avoid Peak Hours: Avoid cycling during rush hours when traffic is heavy and roads are crowded.
Don't Forget Sunscreen: Protect your skin from the harsh sun by applying sunscreen before heading out on your ride.
Avoid Taking Unfamiliar Trails Alone: If you're exploring new trails or areas, having a companion with you for safety is best.
Don't Litter: Always dispose of your trash responsibly and respect the environment.