Best Budget Food to Buy in Dubai
As a popular gastronomical stop in the world, Dubai is best known for its wide array of culinary delights. It's not uncommon to find delicious food on a budget from both the local and international cuisines on display in the city.
You can grab a decent meal starting at almost any price, even as low as AED 1. From savoury shawarma meat, to a vegetarian alternative in falafel, to sweet Kunafa, here are some of the best foods to eat in Dubai while you are on a budget.
Shawarma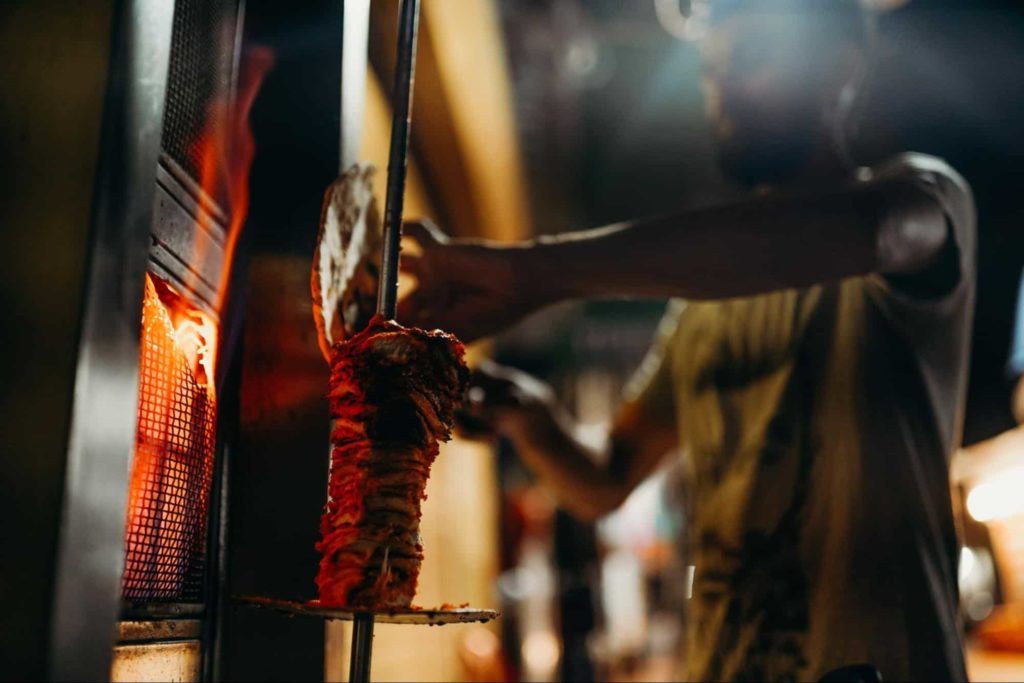 Photo by Cottonbro
Shawarma is one of the best known Middle Eastern street food so it's not surprising that Dubai has plenty of establishments offering the delicious snack.
It's generally composed of slowly-charred spiced meat, either beef or chicken, stuffed into fresh pita bread, sauce, and vegetables. There are even a few vegetarian options that have sprung up in recent times.
And even though it's not a traditional Arabic dish, you should be able to find at least one shawarma spot within a square kilometre in Dubai. For delicious budget shawarma however, many residents recommend Al Mallah.
You can taste their chicken shawarma for as low as AED 9! They also have other options such as a mixed grill meal composed of three skewers, bread, and vegetables for AED 40 which we think is perfect for sharing with friends.
The best thing about shawarma is that it can be eaten as a hearty lunch or a quick snack. You can even find places serving the dish past midnight!
Falafel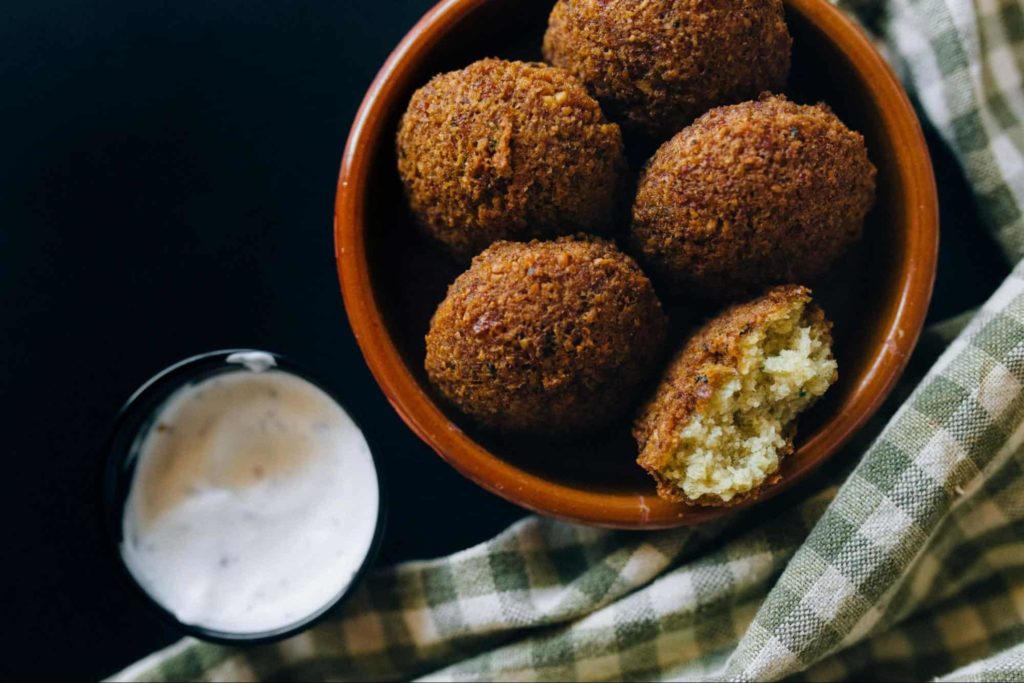 Photo by Nataliya Vaitkevich
You may recognise falafel as a staple in many Mediterranean or Middle Eastern restaurants from all over the world. It's quite popular both as a street food in the Middle East as well as countries like Egypt, Turkey, and Israel.
It is traditionally made from chickpeas combined with fresh herbs and spices. The mixture is then made into balls or patties and fried until it's crispy on the outside.
You can eat the dish as it is or you can serve it in a pita sandwich coupled with pickles,  and tahini. It can even be used as a dipping snack when paired with hummus.
Regardless of how you prefer your Falafel, many locals recommend checking out Farisian Cafeteria. The cafe has been serving up tasty falafel, samosas, and batata verdas for years and is still going strong.
You can enjoy falafel as is for AED 1 each or you can make it a sandwich for AED 3. Not a bad price for a flavourful, vegetarian snack when travelling in Dubai.
Samosa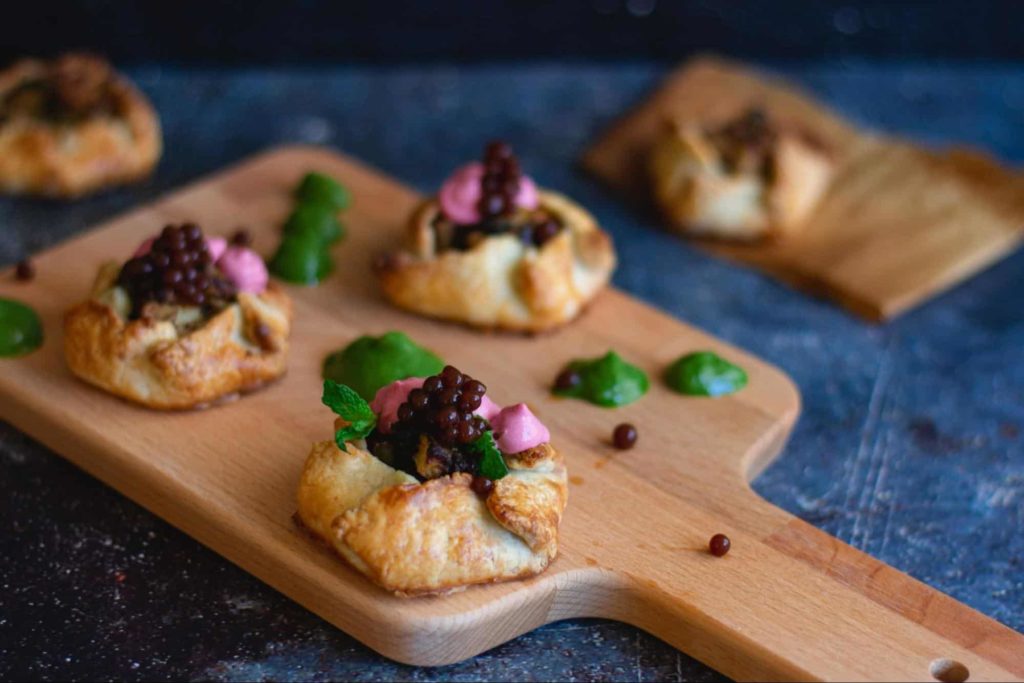 Photo by Neetu Ladha
For delicious food on the go, you can always try some samosas. This delicious Indian and Tibetan pastry can be enjoyed as part of a meal or eaten while in a rush.
You may recognise this meal thanks to its triangular pastry crust and crispy exterior. Inside, it may be stuffed with fillings like mashed potatoes, peas, shredded lamb or chicken, and seasoned with all sorts of spices.
The options are quite diverse here, satisfying both vegetarians and meat-eaters alike. You can also choose to dip them in a wide array of sauces or chutney.
It is traditionally served as it is or you can eat it as part of a set known as chaat. Chaat is like a platter of different snacks which can include fried green onion cakes, lamb dumplings, samosas, and dipping sauces.
Chaat Bazaar is one of the best places to buy samosas as part of a chaat, and they have four locations in Dubai from Al Nahda to the International City.
Their samosa chaat can be bought for as low as AED 12. You can also get a classic Bombay vegetable grill as well as pani puri set for less than AED 20 at the bazaar.
Regag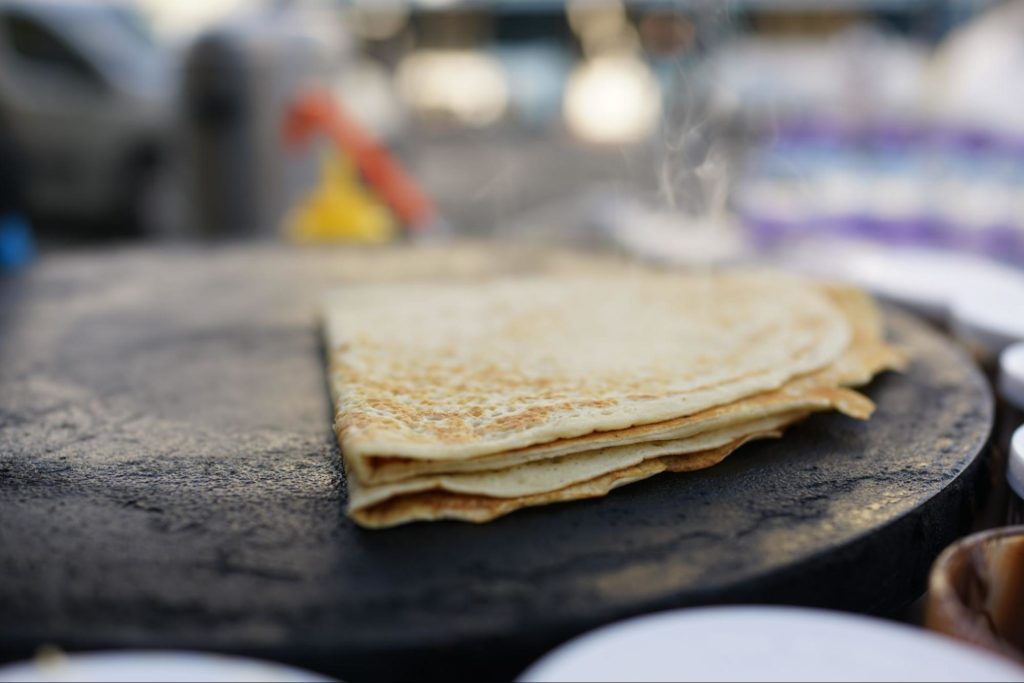 Photo Credit: Shutterstock
Regag is one of the more well-known breads in the United Arab Emirates and the wider Gulf territories as a whole. You might recognise regag as a thin, almost wafer-like bread that you see in most households.
It can be eaten hot off the pan or stored for eating later as regag retains its flavour for several days. Aside from that, you have other ways of enjoying regag in the UAE.
For some households, a simple regag can be dipped in milk or yoghurt and enjoyed as is. Some will pair it with sweet flavours like with fruits, honey, and even chocolate.
Others may add toppings such as cheese, eggs, and mhyawa; a kind of fish paste. It can also be crushed and used as a topping for different stews.
You can also see people serving this among the other foods served during the Holy Month of Ramadan.
As it is quite a common meal or accompaniment, you can get regag in many places in Dubai. We recommend buying them at the Labeeb Grocery personally.
Not only is it quite a convenient location to look for ingredients for your stews and toppings, rigag is quite cheap as well, only costing AED 5 per bread. You can even ask them to use the bread as topping for your chip of choice.
Kunafa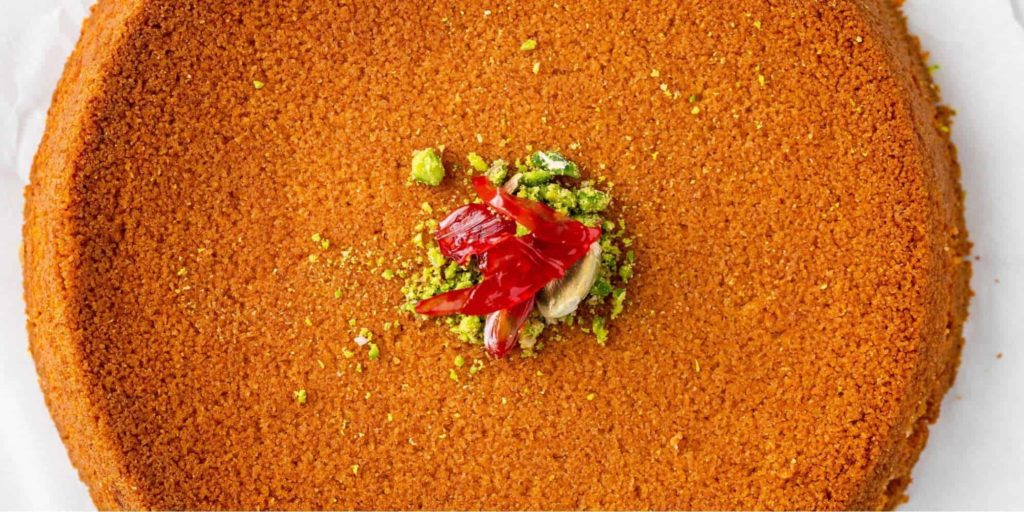 Photo by Eat Kubba
After the savoury and spice-laden dishes, you may be craving something sweet for dessert. And we're glad to report that Dubai doesn't disappoint either, as they offer tasty treats like kunafa.
Also spelled as 'kanafeh', it is a noodle-like pastry made from semolina, cheese, and sugar syrup. It has an interesting flavour profile as a result and is available in many different varieties depending on the store.
And when it comes to anything dessert-related, you can check out the reliable Al Samadi Sweets. Locals and customers love their selection of Arabic and Middle Eastern desserts, ranging from chocolates, baklava, and of course, kunafa.
You don't have to spend a lot for it either. You can buy the snack for yourself for AED 40, which is quite competitive with most other stores and restaurants.
The store offers delivery services so you can satisfy your cravings without leaving home. They will even gift-wrap and customise the sets you order, making them a good gift idea for your friends or loved ones in Dubai.
---
There's no need to go hungry if you find yourself under a tight budget. Dubai is full of delicious and filling food and snacks in every corner provided you just look closer.
With so many people from all walks of life coming in and sharing their culinary experiences in the city, Dubai certainly earns its reputation as a delightful gastronomical stop in the UAE.