A Quest to Al Karama: A Traveller's Comprehensive Guide
Have you ever pictured yourself in an underrated district in Dubai, where skyscrapers touch the sky, luxury cars glisten in the sun, and wishes come true? That's Al Karama for you!
Al Karama is so charming, in fact, that it was initially planned to be the capital of the UAE! But in 1996, Abu Dhabi was chosen instead.
To know more about this fascinating district, read on to explore its attractions, cuisine, and community.
What is Al Karama famous for?
Al Karama, a district in Dubai, is famous for its bustling Karama market. It's known for its wide array of shops and stalls, offering everything from clothing and accessories to electronics and home decor. 
At first, it was just a place for folks to live, especially expats. But now, it's turned into a lively shopping hub. The name Al Karama also translates to "dignity" in Arabic, reflecting the sense of pride and heritage associated with the neighborhood.
When you step in, you'll find a bustling atmosphere. The streets are lined with shops, markets, and restaurants with various cuisines and items, from traditional Arabic souvenirs to gadgets and gizmos.
The vendors at "souks" or the famous street markets also sell everything from handmade jewelry and textiles to seasonings and fresh produce.
It's common to bargain in these markets as well, so be ready to haggle for some great deals!
Best Time to Go
The best time to swing by Al Karama is during the cooler months, from November to April. The weather during this time is pleasant, with temperatures ranging from 20 to 30 degrees Celsius.
You should steer clear during the summer, though. It gets crazy hot, with temperatures soaring above 40 degrees Celsius – not ideal for outdoor adventures.
And remember, it's most buzzing in the evenings and on the weekends when everyone heads to the markets and restaurants.
​​How to Get Around
Considering a visit to Al Karama? Here are some easy ways to get there:
By Car: Navigating Al Karama is a breeze with GPS or a navigation app on your smartphone. Apps like Google Maps, Waze, or Apple Maps are your buddies for finding your way.
By Bus: Hop on the C3 bus, which has 36 stops from Abu Hail Metro Bus Stop A-03 to Al Karama Bus Station. The ride takes about 40 minutes, covering around 24 kilometers.
By Taxi: Taxis are everywhere in Al Karama. You can flag one down or use services like Careem. It typically ranges from AED 230 to AED 290.
By Metro: If you prefer the metro, the closest station is ADCB Metro Station (formerly Al Karama Metro Station) on the Red Line. It's just a 10-minute walk to the shops and markets in Al Karama.
Remember to follow local traffic rules and have a valid driver's license if you're driving. Now, you're ready to do some fun activities in Al Karama below!
What to Do at Al Karama
Shop at Karama Market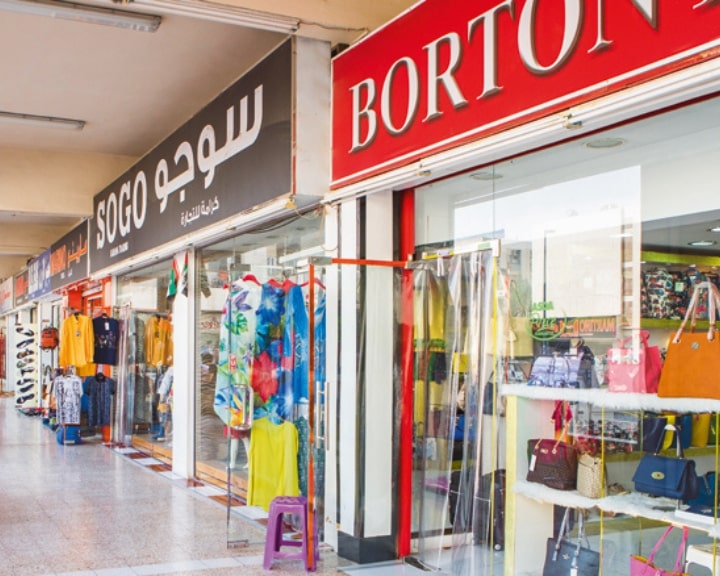 Karama Market is a lively spot known for its bustling street shopping. Here, you can find all sorts of things, like trendy clothes, cool gadgets, and unique souvenirs.
It's a haven for haggling lovers too, and you'll often see locals and tourists going back and forth to get the best prices.
One unique thing about this market is that shops sell high-quality replica handbags that look like fancy designer brands, from Louis Vuitton to Gucci.
These knockoff bags are known for their intricate workmanship, and it's pretty tough for the average person to spot the difference between them and the real deal.
Quick heads-up, though. Buying replica bags might have some legal and ethical implications, so carefully consider your choices and be aware of any potential consequences.
Visit the Dubai Frame
The Dubai Frame in Al Karama is a remarkable architectural icon that links the city's history with its modern era. Walking on the see-through glass pathway between the two towers, you'll enjoy stunning panoramic views of both old and new Dubai.
Inside, the museum tells the incredible story of Dubai's evolution with interactive displays and immersive exhibits.
This can be a captivating trip through time and a chance to snap some Instagram-worthy photos of Dubai's skyline framed within the structure.
Stroll around Za'abeel Park
Za'abeel Park in Al Karama is like a green oasis amid the city's hustle and bustle. Families often come here for picnics and relaxed strolls.
You can discover jogging paths, a big lake with paddle boats, and a small amphitheater for cultural events. Here, you can spend a calm afternoon under palm trees, watching swans on the lake, and escaping the fast city life.
Discover Some Street Art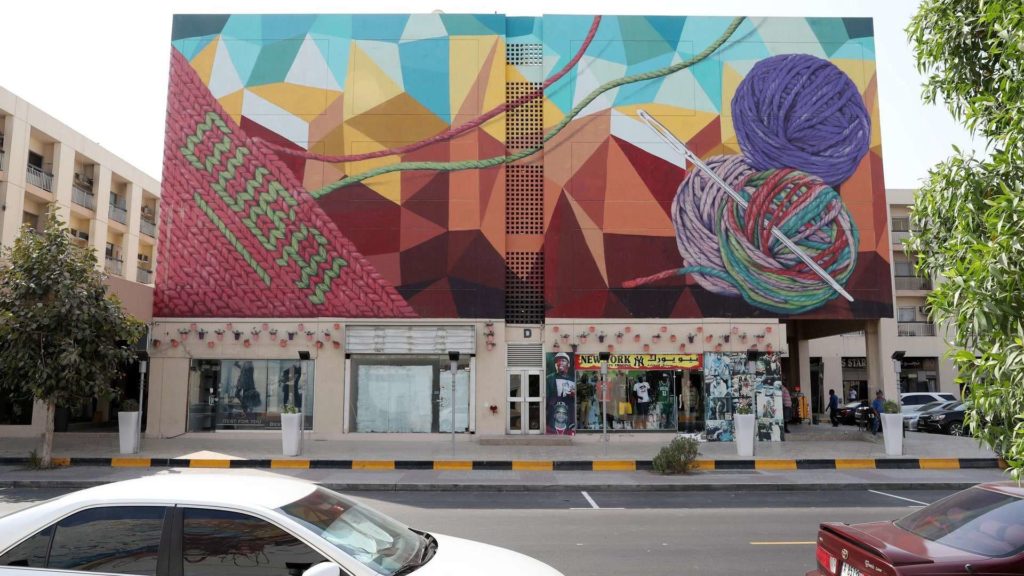 Al Karama has an exciting street art scene that can wow anyone who visits. While strolling through the streets, you'll see lively and thought-provoking on the walls.
For instance, one striking mural is a painting showing a ship plunging into the waves, symbolizing a sense of adventure and the unknown. This type of mural captures the viewer's attention with its vivid colors and dramatic imagery.
Relax at Karama Park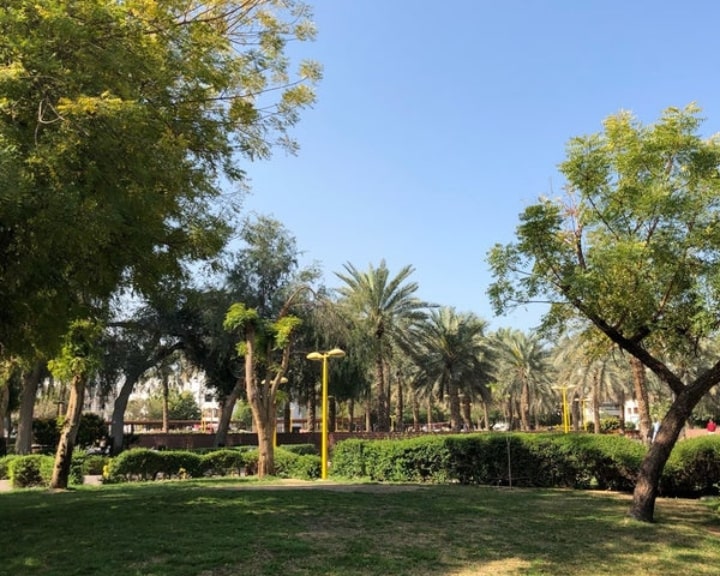 Al Karama Park is a hidden treasure in Dubai's busy district. The Dubai Municipality constructed it, offering city dwellers an escape from the city's chaotic day-to-day by featuring green spaces and enjoyable playgrounds.
Beyond its sheer beauty, the park is eco-friendly, powered by solar energy, and equipped with recycling centers to collect and reuse materials.
You'll find benches to relax, courts for badminton and cricket, trails for running and biking, and open grassy spots for leisurely picnics.
Find Fresh Seafood at Karama Fish Market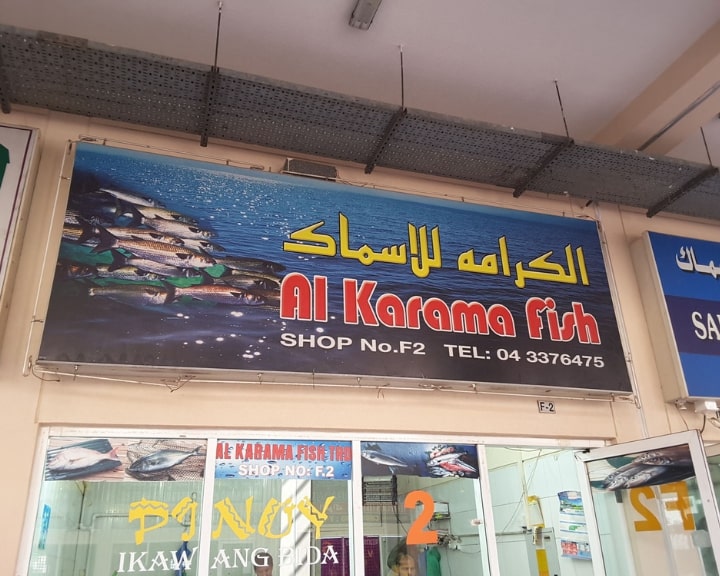 Karama Fish Market is the go-to place for its seafood. It's a busy place to find the freshest fish, shrimp, crabs, and more.
You can also haggle for prices and get your purchases cleaned and prepped just as you like them. The locals and tourists love it for top-notch seafood and the lively feel of a traditional Dubai fish market.
Experience Great Hospitality at Four Seasons Ramesh Gallery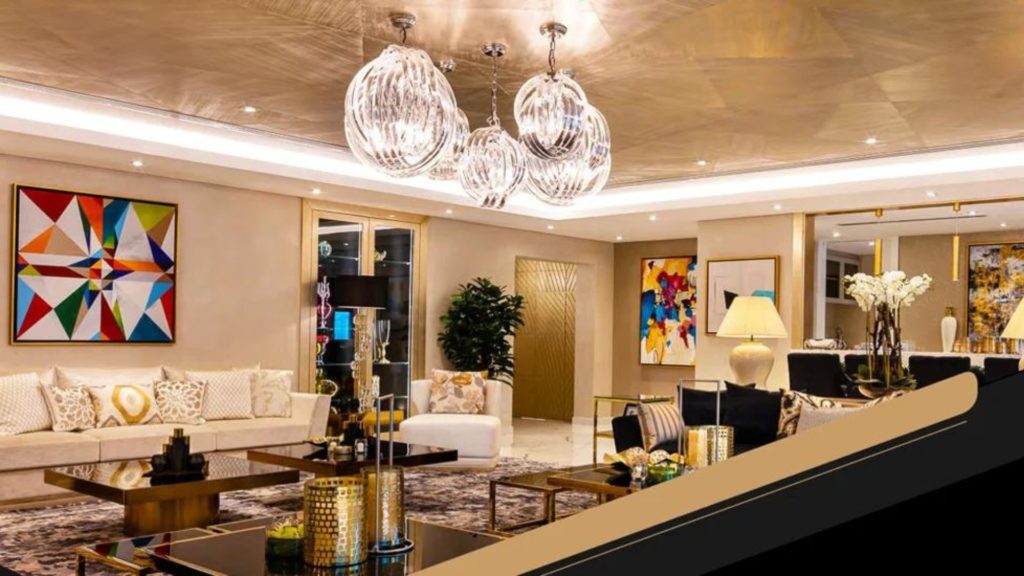 The Four Seasons Ramesh Gallery in Al Karama is a company that provides fine art, picture frames, furniture, decorative lighting, and home accessories to the hospitality industry.
It started in 1970 and now has two galleries, one in Dubai and one in Los Angeles. The Dubai gallery in Al Karama is quite spacious, too, with a 15,000-square-foot showroom. Plus, they run the biggest picture-framing factory in the Gulf!
Moreover, this company has furnished some of the region's most prestigious places, including hotels, restaurants, and offices like the Address Sky View Hotel and the Radisson Blu Hotel.
Where to Stay Near Al Karama
Hampton by Hilton Dubai Al Seef
Address: Al Seef St – Umm Hurair 1 – Dubai
Phone: +971 4 707 7079
Pricing: $$
Book now
The Hampton by Hilton Dubai Al Seef in the charming Al Karama district is a waterside hotel in the heart of Dubai, offering a cozy and pleasant stay.
Here, you can enjoy views of Dubai Creek from your room or the outdoor pool and drink at the bar.
Feeling hungry? The hotel offers not one but two restaurants: Mashmash and Mogiya Authentic Japanese Restaurant. They provide cuisine ranging from local dishes like salads, soups, noodles, and curries to international favorites like sushi.
Did we mention they offer a complimentary breakfast buffet with both hot and cold options? That's a real win to start your day on the right note!
Park Regis Kris Kin Hotel Dubai
Address: Sheikh Khalifa Bin Zayed St, Opp Burjuman Center, Bur Dubai
Phone: +971 4 377 1111
Pricing: $$
Book now
The Park Regis Kris Kin Hotel Dubai is a place where luxury meets comfort near Al Karama. Your room offers a lavish experience with an interactive flat-screen TV, a designer bathroom, and a minibar.
You can enjoy the rooftop pool, which boasts a stunning city skyline view. Moreover, the hotel features three restaurants and two bars with various options, from Asian fusion to Australian steaks.
And if you need to unwind, there's a hot tub, a fitness center, and free Wi-Fi in public areas, so the hotel's got your relaxation covered.
Fortune Karama Hotel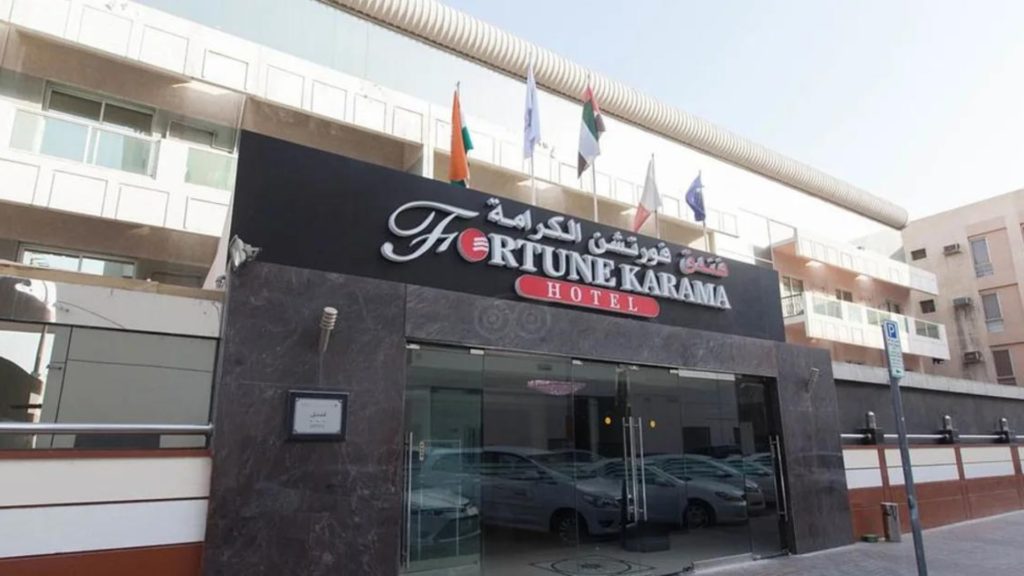 Address: Street 2 C – behind ADCB – Al Karama – Dubai
Phone: +971 4 334 8777
Pricing: $
Book now
The Fortune Karama Hotel is a budget-friendly option for a comfy and practical stay in the Karama District. Your room offers simplicity and comfort with a clean, roomy layout, a flat-screen TV, and a private bathroom to make you feel at home.
When you're feeling peckish, the hotel has a restaurant that serves Indian and Chinese favorites like biryani, butter chicken, noodles, and fried rice. But if you prefer, you can always opt for room service instead.
The best part is that the hotel is conveniently close to Bur Dubai, where you can explore historical and cultural attractions like the Grand Mosque, the Bastakiya Quarter, and the Dubai Museum.
You may also easily reach Sheikh Zayed Road or the World Trade Center, which offers guests various business and leisure opportunities.
Where to Eat Nearby Al Karama
Amritsr Restaurant
Address: Amritsr Restaurant Al Attar Center- Al Attar Center – Al Karama – Dubai
Phone: +971 4 327 8622
Pricing: $$
Website
Amritsr Restaurant, located in Al Karama, offers authentic Punjabi flavors from northern India. The place has a cozy and elegant vibe with colorful artwork and decorations.
Don't miss out on their signature dishes, like prawns in a rich tomato sauce, paneer butter masala with soft cheese cubes, and chicken tikka masala featuring tender chicken pieces.
You may also pair your curries with naan, roti, or paratha bread. For dessert, try a frozen treat called "kulfi", if you're okay with milk and nuts.
Rasoi Ghar Restaurant
Address: Zainal Mohebi Plaza – Sheikh Zayed Bin Khalifa Road – Dubai
Phone: +971 4 388 5711
Pricing: $$
Website
Rasoi Ghar Restaurant at Al Karama lets you explore the rich tapestry of Indian cuisine, primarily focusing on vegetarian options. It offers a buffet-style service, where daily choices vary.
You can enjoy their thali, a platter featuring diverse dishes served with rice and bread, including appetizers, salads, curries, desserts, and drinks. Plus, you can tailor your thali to fit your dietary preferences.
Sallet Al Sayad Seafood Restaurant
Address: Bin Abdulah, AL Shafar building – 46 47C Street – Al Karama – Dubai
Phone: +971 4 335 5722
Pricing: $$
Website
Sallet Al Sayad Seafood Restaurant in Al Karama is the place for top-notch seafood and Mediterranean dishes. It boasts a stylish, modern design with a big aquarium and live cooking station.
You've got a wide seafood selection here, too! It includes fish, shrimp, lobster, crab, squid, and octopus, with various cooking options like grilling, frying, baking, or steaming.
And the accompaniments? Salads, soups, pasta, rice, and bread are all there to complement your seafood feast. For a sweet finish, don't forget to get a piece of baklava – it's a delightful pastry filled with nuts and honey.
Calicut Paragon
Address:  Mattar al Rayar building – Al Karama – Dubai
Phone: +971 4 335 8700
Pricing: $$
Website
Calicut Paragon in Al Karama is your go-to for traditional Kerala cuisine from southern India. The restaurant sports a simple, tidy interior with wood and lively green plants.
Start with their appam, a delicate pancake crafted from rice flour and coconut milk. Many say it pairs well with chicken stew or egg roast. Their biryani, a flavorful rice dish cooked with meat and spices, is a must-try too!