The 8 Best Website Design Companies in Dubai
Featured Image Source: Domenico Loia via Unsplash
According to studies, 75% of customers decide on whether to trust a company based on its website's visuals alone and you're bound to lose 38% of your website visitors if they think your website is badly designed. So yes, website design quality does matter!
If you know nothing about website design, it's absolutely fine! There are experts you can count on to give you the perfect website for your business—and we've got everything you need to know about the best website design companies in Dubai!
But before we get on with our list, let's first talk about how much you'll be spending on website design in Dubai.
The Cost of Website Design in Dubai
If you're wondering how much you're going to have to spend on website design, it depends on what needs to be done. Website design companies and freelance designers usually bill you based on how complicated the job is.
Currently, simple packages can cost as low as AED 5,000. This will usually include a less interactive website design with just a number of pages and requires minimal graphics, coding, and programming.
Websites that require more complex features go for more than AED 50,000. With these website designs, special templates and layouts are customized for you, and add-ons like auto-play video clips, check-out features for shops, and games are made possible.
If you're willing to spend more, some website design companies can also provide you with photography and copywriting, SEO services, hosting, and AR and VR features. This will cost you around AED 60,000 to AED 150,000.
It also depends on how long the website designer has been in the industry. Naturally, newer website design companies and freelance designers will have lower rates.
The Best Website Design Companies in Dubai
Now that you know a little more about website design costs, it's time to find the perfect fit for your future website. Check out our roundup of Dubai's best website design companies!
1. TenTwenty
WEBSITE
https://www.tentwenty.me/
ADDRESS
Tentwenty Studio, Office 3403, Prism Tower, Business Bay, Dubai, UAE
CONTACT DETAILS
+971 52 648 4329 (temporary)


[email protected]

SERVICES
Website development and design, mobile app development and design, branding, corporate identity, e-commerce, digital marketing, SEO
Established in 2013, TenTwenty is a digital agency that prides itself in effectively bringing together design and functionality for their clients.
While it is a full-service agency that offers a wide range of services, website design is one of the agency's specialities.
On top of web design, TenTwenty can develop apps for both iOS and Android to go with your website. They can also work on your company's branding (everything from your logo to packaging) or set up an e-commerce platform on Magento.
Although relatively new to the industry compared to many of Dubai's bigger and more popular digital agencies, TenTwenty's list of clientele is nothing short of impressive under the helm of Creative Director Patrick de Jongh. Among the agency's clients are The Rivoli Group, Harper's Bazaar Arabia, Airbus Middle East, Banyan Tree Residences, and DIFC.
Just like the agency's own website—which was honoured as 'Site of the Day' in 2017 by Awwwards.com—TenTwenty's work on website design embodies hip, modern, and chic brands that appeal to a younger upscale market. If this sounds like what you want for your own website, then be sure to give the agency a call.
Specialise in site design
Work with small, medium, and large-sized businesses
Modern style will appeal to young and upscale customers
Their style may not be suitable for certain products and services
Client Reviews
TenTwenty's clients have consistently left great feedback.
Former client, Kirk, commended their service, saying: "I've been impressed with their process since day 1, as they sat us through their process, people and technology to map up our ideal website. They were patient. They were informative. And most importantly, they took our vision and executed it ten fold."
According to another former client, Ranjit Unni of OFIS:
"They have done a good job considering the brief was quite exhaustive. They have a very able team in place who would value add at every stage of the project. Since we had new logo and brand guidelines for OFIS already in place, they were able to interpret it very tastefully in their recommended website design."
2. Code & Co
WEBSITE
https://www.codeandco.ae/
ADDRESS
1408 Bayswater Tower, Business Bay, Dubai UAE
CONTACT DETAILS
+971 55 101 6085


[email protected]

SERVICES
Website development and design, mobile app development and design, graphic design and branding, corporate identity, e-commerce, social media marketing, domain and hosting, SEO
Founded in 2014, Code & Co is a full-service digital solutions agency that provides clients with services such as website and mobile app development, programming, graphic design and branding, search engine optimization, and everything in between.
They make use of a 5-step approach, which starts with strategizing, research, and brainstorming, and ends with continuously supporting, promoting, and helping their clients grow.
While the agency offers a long list of services, Code & Co is one of Dubai's leaders in web design. Its co-founder, Creative Director Puneet Sakhuja, specializes in web design and has been in the industry for more than 20 years!
Code & Co's diverse roster of clients includes popular businesses like Gold's Gym, Canon, Dubai Bank, Siemens, and Fairmont Dubai.
Because the agency caters to just about any kind of brand, style and versatility won't be a problem. All you have to do is get in touch with them, ask if they can execute what you've envisioned, and see if they fit your budget.
Creative Director with more than 20 years of experience in website design
Diverse clientele includes various top companies
Versatile design style
Offers domain and hosting
Client Reviews
Many clients have commended the agency for their professionalism and no-fuss process.
Dr. Vrata Shetty says:
"After consulting a few firms we settled with Code and Co simply because they were amazing right from our first meeting. We loved their outlook, approach, final product and the overall process was super smooth. I highly recommend Puneet and his team to anyone looking for that spark of creativity."
Another former client, Reehan, highly recommends Code & Co, saying:
"they were "highly cooperative and swift in making changes. A great company that understands design and your requirements and delivers upon expectations. "
3. SI3 Digital
WEBSITE
https://www.si3.ae/
ADDRESS
704 Opal Tower, Burj Khalifa Boulevard, Business Bay, Dubai UAE
CONTACT DETAILS
+971 054 495-1498


[email protected]

SERVICES
Website development and design, website maintenance support, website hosting packages, e-commerce, SEO, social media marketing, pay per click advertisement, mobile app development and design
Established in 2008, SI3 is a powerhouse digital agency offering services for every kind of business there is. With more than a decade's worth of awards and a continuously growing list of clients, investing in website design from this company already seems worth it.
In coming up with the website design, SI3's primary objective is to guarantee the growth of your business. That's a huge deal because more than a great website, you want to generate more profit.
SI3 considers your business goals so you can be sure that the whole customer experience of your website will be at the forefront of their considerations in designing.
If you need proof of their efficacy here, just check out their client list. SI3's client portfolio boasts of big industry names like the Zahid Group, Isuzu, Concord Tower, and Fogg Cosmetics.
Multi-awarded firm
Clientele goes beyond companies in UAE
Online quote available
Offers website maintenance support
Client Reviews
Dubbed by many as Dubai's #1 website design company and having been in the business for a long time, SI3 has its share of rave reviews. Many of their clients praise them for their world-class standards and commitment to their clients.
According to Sherly George of Snack in a Box:
"They must charge high as the deliveries are of international standards."
On the other hand, Khizar Hayat said:
"They are a dedicated team with a customer-centric attitude."
4. Blue Beetle
WEBSITE
https://www.bluebeetle.ae/
ADDRESS
Blue Beetle DMCC Office 1502, Mazaya Business Avenue BB2 Jumeirah Lakes Towers, Dubai UAE
CONTACT DETAILS
+971 4 425 3515


[email protected]

SERVICES
Website design and development, digital marketing, story brand messaging, email marketing, SEO, online advertising
Experience isn't always everything, but it sure counts for a lot—and that's exactly what Blue Beetle proves. For 17 years, Blue Beetle has been in the business of providing their clients with stellar website production, digital marketing, and online advertising services.
What sets Blue Beetle apart from other agencies is the way they treat each project as a collaboration where clients participate actively throughout the whole process. This method saves time, allows for clients to monitor real-time progress, and ensures that every input and possible improvement is taken into account.
They thoroughly get to know your product or service through methods like competitor analysis, market research, workshops, customer surveys, and user stories so that they can provide you with the most effective website design.
On top of website design, they also offer services for you to reach your target market and keep the momentum going. These services include SEO, CRM, Heat-maps, Data and Analytics, Sales and Marketing Automation, and Content Marketing.
While they boast of a wide spectrum of clients, some of the best web design work they've done are for clients like Ascott, Conrad Dubai, Rove Hotels, Nikki Beach, and Meat Co. If you're looking to have a website designed for a business in the hospitality or leisure industry, then Blue Beetle's the agency you need.
Provides comprehensive website production package
Offers online advertising within the UAE and abroad
Higher rates
Doesn't offer 24/7 hosting support
Client Reviews
There's a reason Blue Beetle has stuck it out in the industry for so long. Clients love their output and they always deliver based on what their clients need.
Former client, James Pass said: "The developers are very experienced and always prepared with answers to our questions."
On the other hand, Weldon de Souza of Nexus Insurance Brokers said: "Their design and development teams are experienced and customer-centric and fully understand what the client wants"
5. Iktomi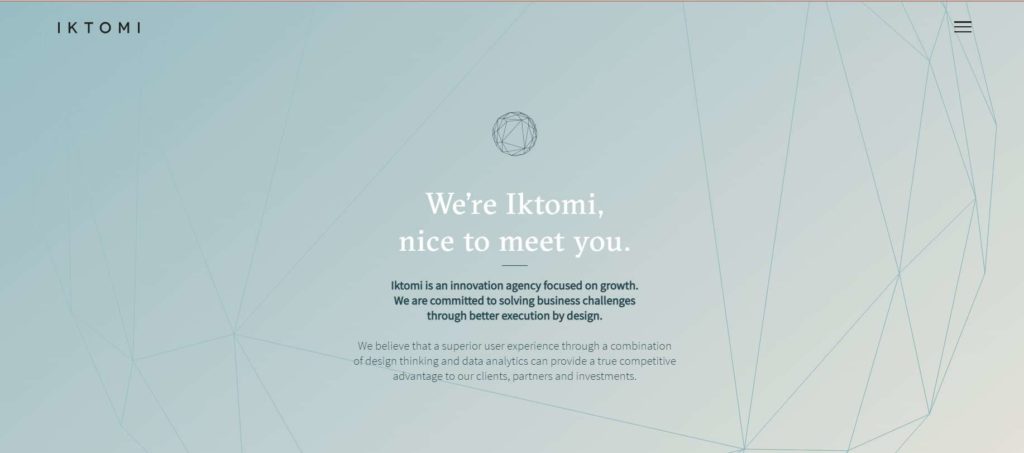 WEBSITE
https://iktomi.net/
ADDRESS
Al Saaha Offices Building B, Office 404 Souk al Bahar, Dubai, UAE
CONTACT DETAILS
+971 56 980 0600


[email protected]

SERVICES
Digital production for websites, mobile apps, and games, UX and UI consultancy, design services, market entry consultancy, product/service localization, rapid entry prototyping
Founded by Alessandro Zanchetta and Nader Sobhan in 2011, Iktomi has come a long way since it was established as a boutique digital media agency in Dubai. Now with added offices in Barcelona, Ankara, and Singapore, the agency has been helping businesses grow online all over the world.
Also a full-service agency, Iktomi's services go beyond website design. From digital production for websites, mobile apps and games to designing and building prototypes, no potential is left untapped and customers are bound to come when you avail of their services.
Being in the industry for ten years, Iktomi has become the website design go-to for many companies. Some of the websites Iktomi has worked on include Blue Coast Brewing, Al Maktoum Global Initiatives, Emirates Integra, HBS Towers, and Casinetto.
If Iktomi's work has shown any kind of precedent, it's definitely how user-friendly they make websites, which is always a plus for customers!
Offers AR and VR digital production
Extensive marketing consultancy services
Offices in other major business hubs around the world
Agency's primary focus not on website design
Client Reviews
With well-rounded digital solutions experts running the agency, clients are pleased with the work Iktomi delivers.
Natasha Frost Savio, co-founder of Blue Coast Brewing, had nothing but high praises for the agency, saying: "Iktomi successfully got the website running and enabled increased email interaction. The project management and suggestions were always implemented quickly. They were good at familiarizing themselves with the project."
A partner at Veridian Ventures commented: "Their website designs were quite superior to all of the other designers we considered."
6. Hello Pixels
WEBSITE
https://www.hellopixels.com/
ADDRESS
Office No: 208, Rawdat Al Wasl Bldg Near Mazaya Center, Business Bay P.B.No:32925, Dubai – U.A.E
CONTACT DETAILS
Mobile: 050 5473745
Phone: 04 269 0673
SERVICES
Design, Branding, Content Writing, Web Development, App Development, Social Media, SEO, Marketing, Solutions, Lead Generation
Hello Pixels is a full service end-to-end website design and digital agency. They provide the best digital solutions to startups and businesses.
Unlike others, their core strenghts are Cloud Technology, AI, IOT and Data Analytics. They will accept all the latest concepts and make sure to turn your organization digitally.
According to one testimonial about them, the agency is notable for a full package of solutions provided, management and support of the client's business, consultations, as well as the ability to provide single services.
They are amazing in creating bespoke websites from scratch at the same tailored to your exact needs. With their unlimited designs, your final website will look fantastic!
Flexible Technologies
Bulletproof Marketing
Thinks outside the box
Client Reviews
Here's a review from one of Hello Pixel's clients:
"What a helpful bunch. After being scammed by another web design company, I was recommended Hello Pixels and I now know why. They are quick to respond, informative and deliver what is asked for. Would highly recommend. Thanks guys!"
Here's another one:
"The team at Hello Pixels create completely bespoke websites, from scratch, tailored to your exact requirements. They offer unlimited design, and the final website is sure to have the wow factor, as well as driving additional traffic to your new site. If you want your website to work harder, as well as looking fantastic, Hello Pixels are the ones to call."
7. FAJR Web Solution
FAJR Web Solution has been in service since 2006. They are dedicated to adding value to their clients' businesses with the use of technology.
What people like about them is their cost-effective consultancy that allows their clients to increase their efficiency through the most effective deployment of IT within their organization.
Another factor why people prefer them is their broad range of services. They have web designing, graphic designing, CMS web designing, and so much more.
With their professional services, they are recognized as a reliable company that can really help people grow their business online.
Free Quote
Have all the services anyone needs
Can cater to all types of businesses
Rates are unavailable online
8. Global Media Insight
Do not have a professional and well-designed website yet? Build your online presence now with Global Media Insight.
The team at GMI believes that a website's design plays a big role in improving a brand image that is why they only offer the right tools and expertise that can absolutely help you to launch your online presence. Aside from building an amazing website, they also offer a great user experience and an effective information architecture with the use of texts, images, and animations.
In comparison to other companies, their web design service has helped local and international businesses build distinct and extraordinary digital identities that made them attract more customers, provoke engagement, and inspire growth.
We can recommend them because of how fast they work. Their time frame for a small website is 3 days and only a few months for a larger website.
Develops website in Arabic, English, French, German, Japanese, Chinese
Costs start from AED 5,000
Offers redevelopment and redesign services
Specific rates are unavailable on their website
Client Reviews
Here are some reviews left by their previous clients:
"This was a great experience working with a brilliant team of digital marketing. Thank you for providing us a beautiful website exactly like how we wanted and also a big thank you for a successful social media campaign and for the SEO requirements. We are really happy with your service :)"
"My business website was done by them and i really like it. thanks for the fast service and creative new ideas . Plus the SEO performance got better numbers in a short time"
"Working with Liz and her team was an absolute pleasure and they were extremely professional. They managed to replicate exactly what we had in mind but also went way above and beyond that to develop a unique, easy to navigate and beautiful looking website. We have received nothing but complements and praise and the website has been key in the growth and development of the new practice. Once again I would like to take this opportunity to thank – Well Done!"
How to Choose the Best Website Design Company in Dubai
One of the biggest mistakes online business owners make is not spending on their website design because of the added cost, but it's actually worth the investment! Potential customers are more likely to respond to aesthetically pleasing websites in comparison to plain and outdated ones.
On top of not skimping on website design, you can't just go picking out some random company either! Here are some of the most important factors you'll need to consider in choosing a website designer in Dubai:
Factors
Why you need to consider
Your budget
As much as you'd like to invest in website design, you still have to think about how much profit you're going to make if you spend 'x' amount of money on your website.
Your product/service's branding
Website designers have different styles and strengths. Try to hire one that has proven expertise in products or services similar to yours.
Your target market
You'll want your website to look most appealing to the people who are most likely to buy or benefit from your shop or service. You can't exactly have hearts and flowers if you're selling men's grooming products.
The content
Some website design companies offer the whole package, including images and copy. This may save you from the added cost and hassle of hiring a photographer and copywriter separately.

But if you can take great photos and write brilliant copy yourself, then see if you can collaborate with your website designer instead.
The website's functions and features
Customers appreciate websites that are fun, complete, and easy to navigate. Be sure to add in all the essentials—price lists, size guides, promos and discounts, and a reviews page!

If you think features like videos or interactive games are in line with your brand, then consult with your designer if you can throw these in as well.
FAQs on Website Design in Dubai
---
Kickstart your online business website and earn from satisfied customers with the help of the best web design companies in Dubai on this list!
Know any great website design companies we might have missed? Shoot us a message and let us know what you think!
If you've been thinking of launching an app to match your website, check out our list of the best app developers in Dubai!