6 Best App Developers in Dubai
Featured Image Source: Christina Morillo via Pexels
In this day and age, every business should have its own mobile application. This makes transactions quicker and more convenient. For an appealing and user-friendly app, you'll need the best app developers in Dubai.
In this article, we've provided a guide on how to choose the best app developers in Dubai. We've also noted our top picks for Dubai app developers that you should definitely check out.
To prepare your company for the cost of app development in Dubai, we've even included a price list which you will see in the table below.
How Much Does App Development Cost in Dubai
Here is a table containing the cost of various types of applications in Dubai. Actual price may vary depending on your provider.
| | |
| --- | --- |
| Native Apps | |
| Informational, e-book reader, booking apps | AED25,000 to 35,000 |
| Service booking, fitness tracking apps | AED35,000 to 50,000 |
| Food and parcel delivery apps | AED50,000 to 80,000 |
| Hybrid Apps | AED20,000 to 40,000 |
| Web Apps | AED20,000 to 30,000 |
How to Pick the Best App Developers in Dubai
Since you're paying quite an amount for app development, you should make sure that you will get your money's worth.
To guide you in making the choice, below are some of the criteria you should consider in selecting a reliable app developer in Dubai.
Take a look at their portfolio
Check out the company's past works and see if these align with the industry your business is in. This can help you identify whether the app developer would be able to fulfil your requirements for your own application.
At the same time, going through an app developer's portfolio will help you decide whether their existing app designs fit your idea of how your own app should look and function.
Know their testing methods
Beyond designing, a good app developer should also make sure that the app functions as it should. An app with bugs can make your audience lose their interest in your business, so everything should be optimised before it hits the store.
For this, you should ask about the app developer's process during your consultation. It would also be better if you get the services of a provider that offers customer support or maintenance services in case of any future problem.
Read client reviews
Client reviews let you know how easy it is to work with a certain app development company.
In particular, these give you an idea of how the company communicates with their clients as well as whether they finish the job on time.
Ultimately, what should help you make the decision are the reviews that let you know whether previous clients think they got the best value for their money.
The Best App Developers in Dubai
Now that you know what to look for in an app development company in Dubai, let's get you started on your search with our list of the best app developers in Dubai below.
1. Quanta Software Solutions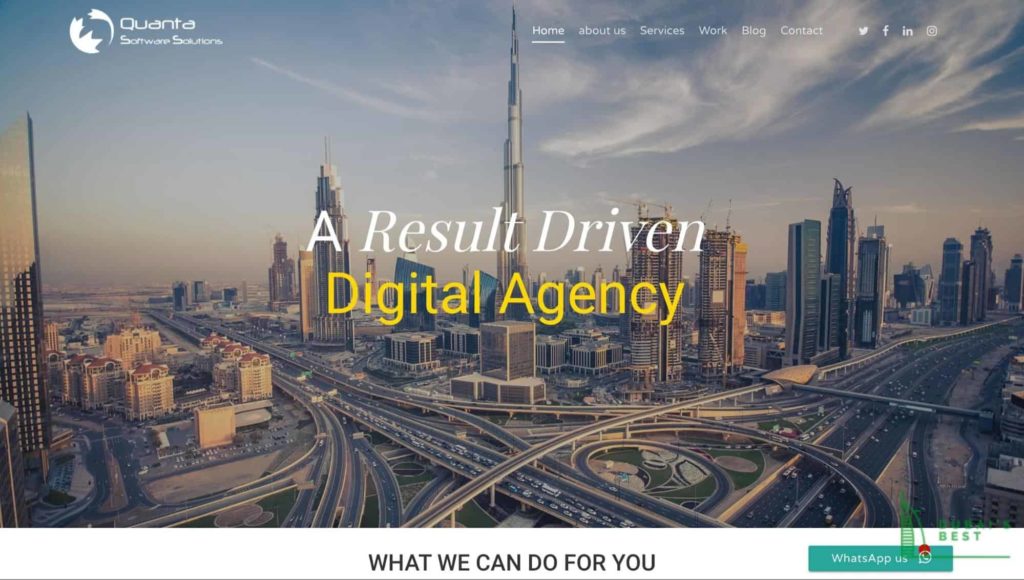 BEST FOR
Wide variety of apps, including AR and mobile games
WEBSITE
https://www.quantasoftsolutions.com/
ADDRESS
Office 303, 3rd Floor, Opal Tower, Business Bay, Dubai, United Arab Emirates
CONTACT DETAILS
+971 4 251 7695
+971 50 105 3209


[email protected]

OPERATING HOURS
Saturday – Thursday: 9:00 AM – 7:00 PM
Quanta Software Solutions is one of the best app developers in Dubai who can create a wide variety of apps for clients from different industries.
To fulfil their clients' requirements, they develop a strategy based on your specific needs before proceeding with the app development. Their designers also have the knack for building easy-to-use apps for an enjoyable customer experience and better return on investment.
Quanta Software Solutions also applies three types of testing methods to ensure that they put out fully-functional apps. Plus, they extend technical support to their clients even after the app launch.
Besides apps for businesses, Quanta Software Solutions also develops AR apps and mobile games.
Three-step testing methods
Post-launch technical support
Customer Reviews
Satisfied client Maliha Samreen said:
"With Quanta Software Solutions, all the processes during the website development were executed as promised.
From collecting all the required information from me and the overall structure of the website to the colour schemes- all discussed to the finest font details. The team at Quanta Software Solutions can come out with the product with a sense of aesthetics and taste.
If you're one of those who isn't really sure what your website should look like, you can definitely put your trust in their skills and ability. Highly recommended Dubai developers. Thanks, guys."
2. Diginix AI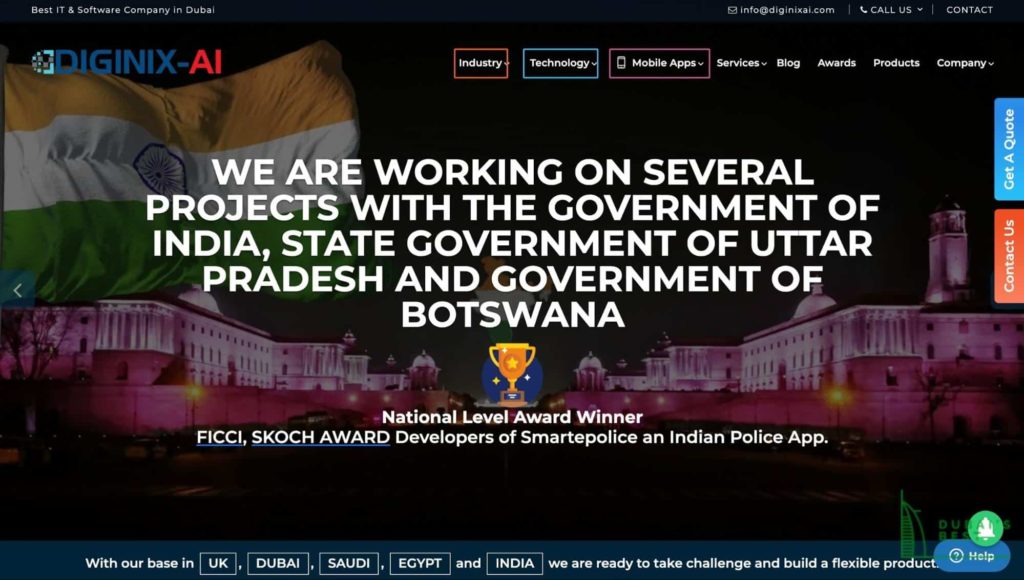 BEST FOR
Hybrid apps
WEBSITE
https://www.diginixai.com/
ADDRESS
401-500, ETA Star House, Al Muteena, Dubai, United Arab Emirates
CONTACT DETAILS
+971 56 398 8134

[email protected]

OPERATING HOURS
Saturday – Thursday: 9:00 AM – 8:00 PM
Award-winning app development company Diginix AI can develop native iOS and Android apps. However, they specialise in hybrid apps that can give your business the best results.
They guarantee that your hybrid mobile app works properly on every platform so cater to a wide range of users.
To ensure your app's functionality, they also have a dedicated team of test engineers that carefully look at each aspect of your mobile app before tagging it ready for launch.
Plus, Diginix AI offers lifetime technical support for hassle-free maintenance.
Develops native and hybrid apps
Award-winning company
Allows online appointments
Not suitable for small projects
Limited number of employees in Dubai
Customer Reviews
Karishma Uniyal, a previous client, reviewed:
"Diginix AI IT Solutions Dubai was able to deliver the app and it has been working successfully ever since. The team's workflow is seamless and they were able to follow a good process."
3. Branex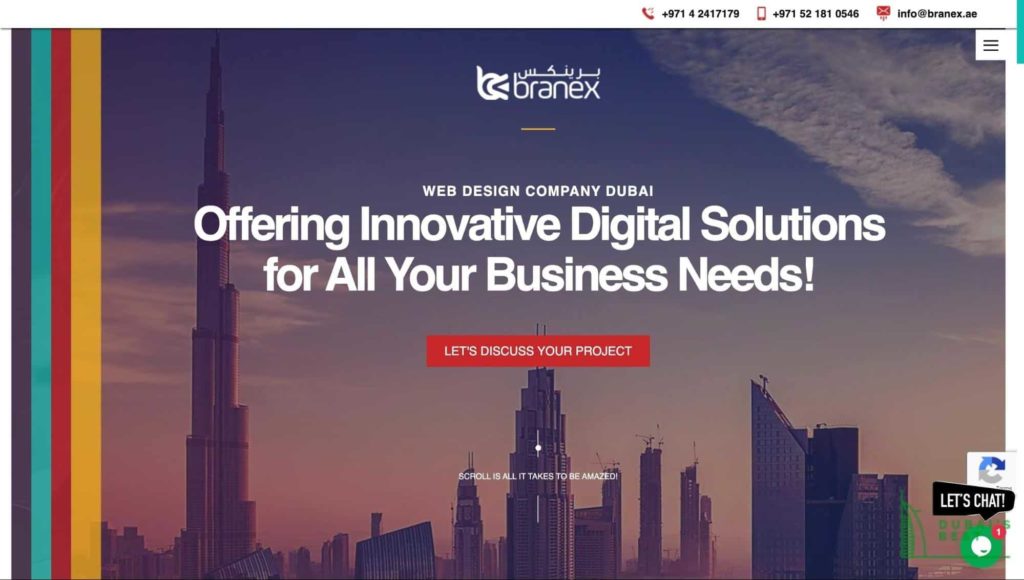 BEST FOR
Feature-packed, modern, minimalistic apps
WEBSITE
https://www.branex.ae/
ADDRESS
2602, 26th Floor, Mazaya Business Avenue, BB2, Jumeirah Lakes Towers, Dubai, United Arab Emirates.
CONTACT DETAILS
+971 4 2417179
+971 52 181 0546


[email protected]

OPERATING HOURS
Sunday – Thursday: 9:00 AM – 6:00 PM
Branex is the best app developer in Dubai for feature-packed iOS, Android and hybrid apps.
The company is known for making apps with modern, minimalistic designs and vibrant visuals. On top of these, their developers also ensure smooth transitions for the best user experience.
Before launching, each app they create goes through a meticulous quality assurance process to make sure it is free of bugs and glitches.
Branex's service also includes making sure your app ranks on app stores to guarantee more downloads.
Feature-packed apps
Great visuals and smooth user experience
Helps in app ranking
Office closed on Fridays and Saturdays
Customer Reviews
Maggie Mungai left Branex a positive review:
"It took me some time to try and find developers that would be a good fit for my company that could take our mobile app to the next level. Gladly I was able to find Branex to help me with the development."
4. Folio3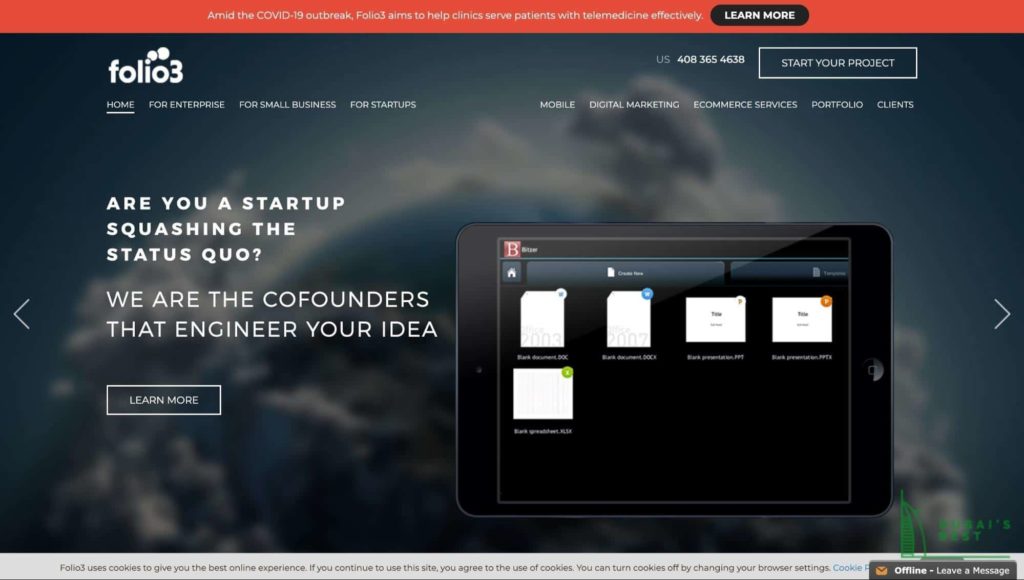 | | |
| --- | --- |
| BEST FOR | Wearable apps |
| WEBSITE | https://www.folio3.com/ |
| ADDRESS | Dubai Internet City, 1st Floor, Building Number 12, Premises ED 29, Dubai, UAE |
| CONTACT DETAILS | +971-55-6540154 +971-04-2505173 |
Folio3 is an international app development company that also offers its services in Dubai. It caters to small businesses, startups, and enterprises from a variety of industries.
They create excellent native and cross-platform apps as well as the newer, game-changing IoT, AR, and VR apps. They also make fully-functional, wearable apps for Apple and Android smartwatches.
Aside from having a rigorous app development process which ensures the effectiveness of your app, they also provide 24/7 technical support in case of any problem.
Handles small, medium, and large-scale projects
Wide variety of apps
24/7 technical support
Customer Reviews
A highly-satisfied client named Matthew Do shared this review:
"Whether it's a new development, update or maintenance – Folio3 always shines through.
Their turnaround time is always stellar, it's a pleasure to work with them."
5.   W2S Solutions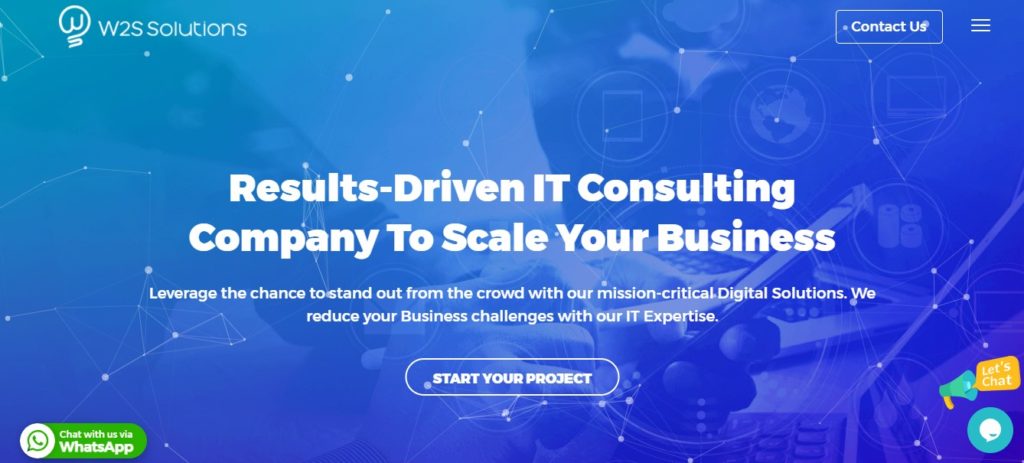 | | |
| --- | --- |
| BEST FOR | IT Consultancy |
| WEBSITE | https://www.w2ssolutions.com/ |
| ADDRESS | Property No : 3D, Gold Tower, Cluster I, JLT, Dubai |
| CONTACT DETAILS | +971 55 818 7507 |
W2S Solutions has been developing applications since 2012. Within their first year in the industry, they have already made more than 25 web and mobile applications.
In comparison to other companies, they give their focus on small to medium enterprises in order to help them rise above their competitors. They are a well-known business since they cater to numerous sectors such as Agriculture, Fintech, Healthcare, Logistics, and Real Estate.
What makes them stand out from their competitors is their simplified OS Business Model. This assists their clients in cutting off additional costs so that they can save money.
Similar to others, they also offer customization. So if you already have something in mind, you can tell them and they will make it come to life.
Presents a portfolio on their website
15 years of experience
The team is 40 members
Base rates are unavailable online
Customer Reviews
Here are reviews from their previous clients:
"Their [W2S Solutions'] ability to interpret what we were trying to achieve, and articulate it back to us, genuinely impressed us."
"We were playing catch-up with W2S Solutions, rather than the other way around. Compared to some other software companies, this was a refreshing change."
6.   Mobiiworld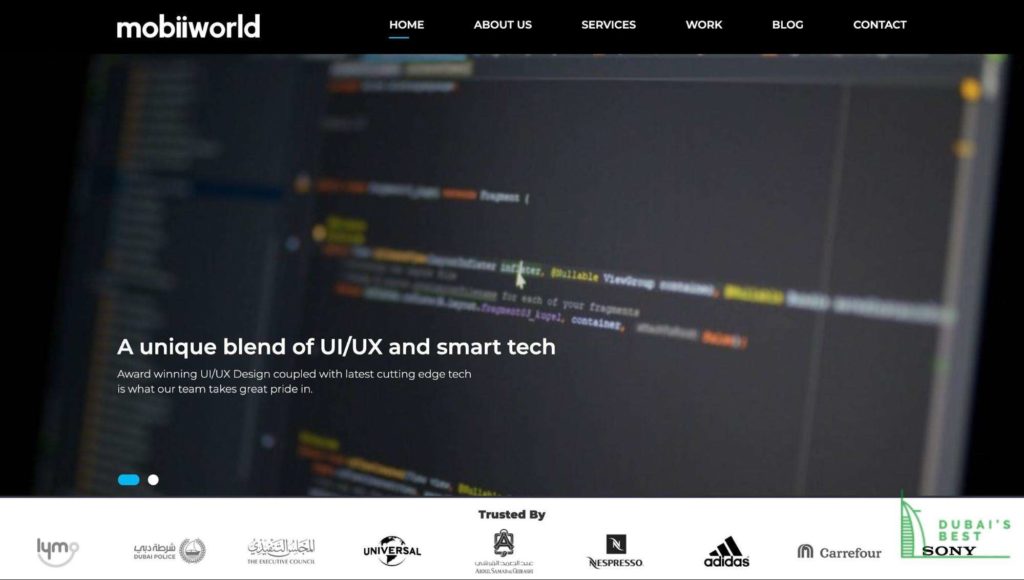 BEST FOR
Comprehensive app development service
WEBSITE
https://www.mobiiworld.com/
ADDRESS
5th Floor, Gateway Building, Block A, Dubai Media City, Dubai, United Arab Emirates
CONTACT DETAILS
+971 4 450 6800
+971 58 506 5400


[email protected]

OPERATING HOURS
Sunday – Thursday: 9:00 AM – 6:00 PM
What makes Mobiiworld one of the best app developers in Dubai is its comprehensive app development service. They take care of each stage of app development, from strategising to marketing.
The company employs a meticulous user experience design process. This allows them to come up with a unique mobile app that is relevant to your specific audience.
Mobiiworld also puts an emphasis on innovation as it uses artificial intelligence, deep learning, and big data to give their clients an edge over their competitors.
A trusted app development company in the region, they have worked with several prestigious brands including Sony, Adidas and Land Rover.
Meticulous UX design
Works with big brands
Award-winning company
Closed on Fridays and Saturdays
Costly services
Customer Reviews
A client named Mohammdd Mohsen was pleased with his experience with Mobiiworld:
"Combining their extensive technical and project management skills, they delivered a very good solution."
FAQs about the Best App Developers in Dubai
---
That's it for our list of the best app developers in Dubai! If you have other app developer suggestions you'd like us to add, you can send us a message to let us know.
If you also happen to be looking for a web designer, definitely check out our list of the best web designers in Dubai.